21 May 2014
Sausage Dog Treats!
Dachshund decals and tote bags at Vinyl Design!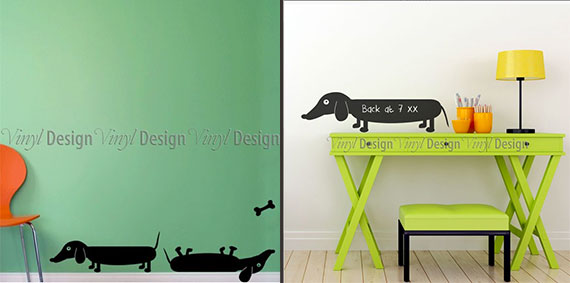 It is impossible not to love the long-bellied, short-legged, pointy-nosed pups of the dachshund variety, better known as sausage dogs. We at Vinyl Design think they are a delightful dog which creates a playful motif as a design for home décor or a fun fashion statement.
The popular pup is sure to grab attention with its playful and unique design to add to your home décor, perfect for either a child's room or adult space. We have a collection of Sausage Dog decals that are multi-purposeful, a design which features two dachshunds with a little bone, which can be positioned according to your creativity, and a chalkboard sausage dog decal which is brilliant for the kitchen, office, or kid's room, to write notes, reminders, or little words of encouragement and inspiration!
We at Vinyl Design have more than just playful sausage dog wall décals; we also have a variety of canvas tote bags that are a perfect blend of minimalist design and funky images. The canvas material complements any colour and is machine washable. If you are sausage dog lover, take yours with you everywhere you go with our Sausage Dog tote bag!

All our designs are found within our online shop.